We're Getting Mutants in the MCU - The Loop
Play Sound
This page is still under construction. Feel free to help out!
If you're not able to find what you need on this topic, try asking at the MusicBee Forum.
Downloading Images
[
]
Main Panel Artwork Search
[
]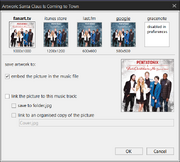 Caution

Artwork saved this way will overwrite all other artwork in the selected files, unless you're adding it from the Artwork tab of the Tag Editor.
This is the search that happens any time you use the "Search Internet for Picture" command, which can be found in Album Covers View, Album and Tracks View, the Track Information panel, the Tag Editor, the Album Cover panel element, and the Auto-Tag by Album window. It is based on your artwork sources configured in Tags (2). Typically you will get the pop-up window showing your selected providers, but if you disable "confirm picture storage options when adding artwork" in General Preferences it will bypass the window and automatically save the first result found (going from left to right, which is the order you have ranked the providers).
The bottom part of the window will use your default storage options from Tags (1), but you can adjust them on a case-by-case basis.
embed picture in the music file: (Default: ticked) The picture is saved into the music file. You might want to use this option to ensure the picture is never lost when you copy the file.
link this picture to the music track: (Default: unticked) save the picture separately from the music and have MusicBee associate the two

save to folder.jpg: The picture is saved to the same folder as the music file and named folder.jpg (which is a windows standard).

Keep in mind that the picture may be overridden by other applications (e.g. Windows Media Player).
Also keep in mind that folder.jpg may be applied to all files in the same folder, depending on your settings for which pictures are displayed.

link to an organized copy of the picture: (Default: Cover.jpg) The picture is saved and named using a naming template.

choose the same next time without asking: (Default: unticked) Copies your current settings to Tags (1) and unticks "confirm picture storage options when adding artwork".
Artwork Downloader
[
]
If you have embedded multiple images in a track, MB rotates each image every 30 seconds on Playing Track panel and the right panel. You can disable it by right-clicking on images on either panel.
Show Files with Missing Artwork