This page is still under construction. Feel free to help out!
If you're not able to find what you need on this topic, try asking at the MusicBee Forum.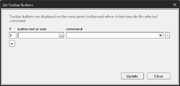 In addition to the Navigation and Layout buttons in the Toolbar, you can configure your own custom toolbar buttons.
Command Buttons can be configured with any of the same commands as Hotkeys. You can browse the full list in Preferences.
Command Buttons which target selected tracks only work for tracks in the main panel. If you need to use a command on tracks in the Playing Tracks list, you will need to find another way.
Community content is available under
CC-BY-SA
unless otherwise noted.