Up-to-date with version 3.0.5899

Select All
Edit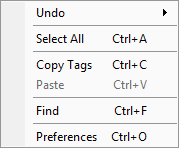 Hotkey: Ctrl+A
Will select all tracks in the main panel. With the hotkey, you can also select all in the Playing Tracks List, but sometimes this behaves in unexpected ways.
Copy Tags
Edit
Hotkey: Ctrl+C
Will copy the tags (including artwork, but not play count or ratings) of the currently selected track. If you prefer to include play count and ratings, you can transfer the hotkey or add a new one in Preferences. (Tags not shown in the Tag Editor may not be retained - make sure you configure any fields you want to keep as custom tags.)
This function only copies tags from one audio file to another. If you want to copy tags as text (usually to paste in another program), use Send To > Clipboard from the Library Context Menu.
Paste Tags
Edit
Hotkey: Ctrl+V
Paste copied tags to the currently selected track(s).
Hotkey: Ctrl+F
Will open the Custom Search dialog.
Preferences
Edit
Hotkey: Ctrl+O
Opens the Preferences window.
Community content is available under
CC-BY-SA
unless otherwise noted.