You can reach this screen from Preferences > Player Preferences > Equalizer & DSP (button) or by using the equalizer button in the player, or from the right click menu of the Player.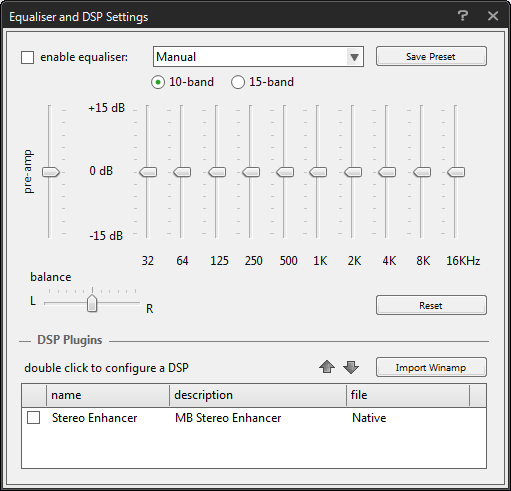 The equalizer enables you to adjust the sound of your music files by providing controls that allow you to boost particular frequency bands, adjust the pre-amplification level and adjust the left and right speaker orientation.
DSP Plugins
The DSP Manager allows you to import, prioritise and configure DSP plugins. Currently only WinAmp DSP plugins are supported but note that while most WinAmp plugins will work, not all do - it depends on technically how the plugin has been implemented and the only way to know is to try it and see.
To enable a plugin, click the Import Winamp button which allows you to locate the folder WinAmp is installed and then select the DSP plugin you want enabled. On clicking OK, MusicBee will copy the plugin to the Plugin sub-folder where MusicBee is installed, and then automatically enable and start the plugin. (You must run MusicBee as an administrator to do this.) You can disable the plugin by unselecting it in the list. Enabled plugins can be temporarily disabled or re-enabled from the Equalizer Window in the player control panel.
To configure a plugin, select the plugin and click the Configure button.
Using the up and down arrow buttons, you can prioritise the order DSP plugins process sound data - the topmost plugins process sound data first.
Community content is available under
CC-BY-SA
unless otherwise noted.